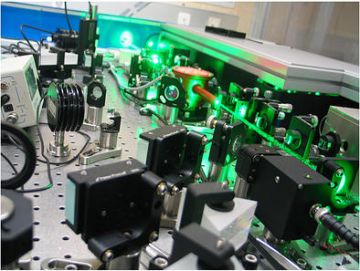 03/02/2014
2BPARTNER INVESTS IN SPHERE ULTRAFAST PHOTONICS PROJECT
* Cutting edge technology in the laser pulses area, created at the Faculty of Sciences of University of Porto, has already interested clients in France, Germany and United States
2bpartner that is a venture capital majority-owned by dst group that manages the fund Minho Inovação e Internacionalização, announced the investment of 350,000 euros in Ultrafast Photonics Sphere project, that aimes to develop a new generation technology in the field of ultra-short pulses lasers. With a highly qualified team, Sphere Ultrafast Photonics has advanced skills, being an innovative hub in the high technologies sector. The company's first product is the d-scan, which incorporates a new architecture capable of measuring and controlling ultra-short laser pulses with unprecedented durations (near the three femtoseconds). The d-scan may have multiple applications, from the advanced diagnostics and therapy in ophthalmology to processing of materials with high precision.
Initially, the target audience of this product are research institutes and R & D departments of companies using femtosecond lasers for the development of equipment for medical application or processing of materials. The largest share of these products is intended for the foreign market, and there are contacts in countries like France, Germany and the United States for selling the first units. This is a key to the internationalization of the company that is installed in UPTEC, the Science and Technology Park of University of Porto, and has been awarded the First Prize in the contest iUP25k 2013. 
Founded in 2007 by AIMinho the 2bpartner's mission is to identify entrepreneurs and ambitious management teams with innovative projects, ideas and great potential. Specializing in Venture Capital, manages the fund Minho Inovação e Internacionalização, created in 2011, with the majority of its capital acquired by the dst group in 2012. During the next two years is expected to conduct another 20 investments in innovative projects with potential for internationalization. Therefore, entrepreneurs are encouraged to submit their business project at the company website: www.2bpartner.com.
For José Teixeira, president of the Board of Directors of dst group, it is "a very strong bet on innovation and business diversification, supporting ambitious projects and whose path will inevitably be the internationalization", noting that "many valuable ideas only need an initial investment so that they can flourish. " he concluded that "This is the mission of 2bpartner and the great goal of the fund Minho Inovação e Internacionalização,"